Nicole and Justin's Story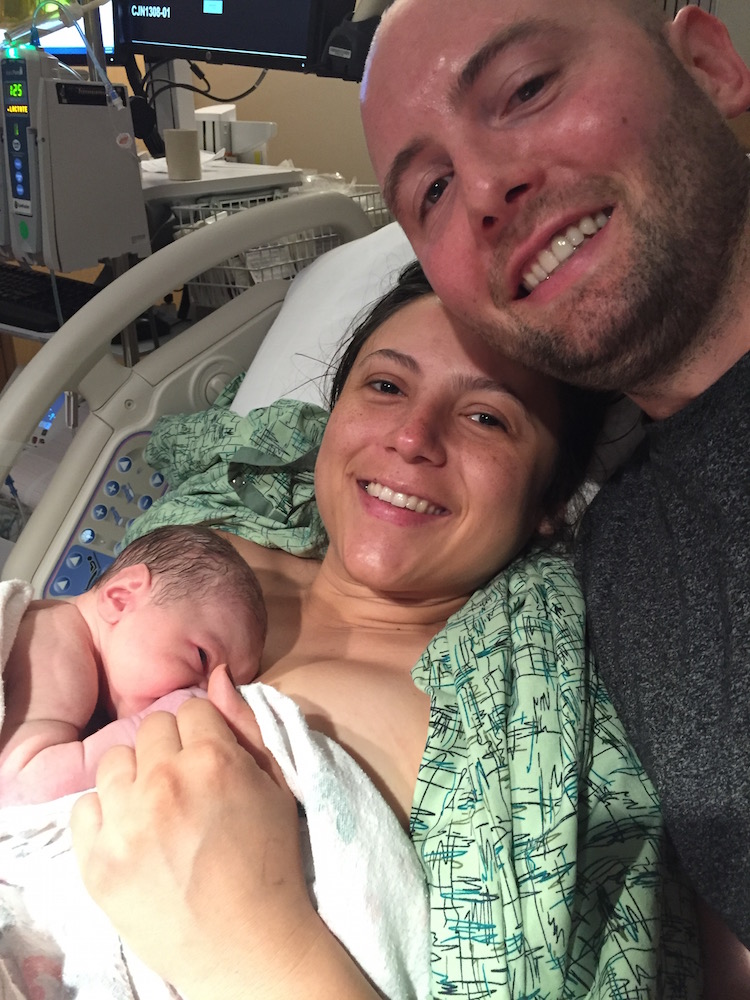 My husband and I were introduced to the idea of a doula at a New Year's Eve party. Our friends ranted and raved how having a doula is the way to go when delivering a baby at the hospital or at home. I had many friends who also had a doula, but our friends praised Cindi's work ethic, professionalism, reputation and just how overall awesome she was during such a pivotal moment in our life. I decided to contact Cindi via Mother' Milky Way and see if it was written in the stars for us to have a doula. I saw that Mother's Milky Way was located in Altadena, CA which was not too far from our Alhambra, CA location in case of an emergency. When we got in contact with Cindi, she offered to come visit us at our home in order to go over what having a doula entailed. My husband and I needed so much guidance because we had never had a baby before, so coming over and visiting us was so important. When she arrived to our house, she went over the role of the doula and what she would offer us if we chose her to walk us through the journey of delivering our baby. Shortly after we said, "yes," to Cindi, she had a knee accident and both my husband and I were in panic mode for her and whether or not we would have her as a doula. At this time, I was late into my second trimester and was worried that I would have to find another person. However, Cindi assured us that she would be there every step of the way and had positive hopes for her recovery. Her positive mental state over her accident was remarkable. I had a similar accident years ago and was in such a depressive state. Nevertheless, Cindi accepted fate and was able to recover fast. As a result, this helped me realize that the longer we take to accept our reality, the longer it will take to recover; so Cindi's positive spin on her health exemplified her dedication to herself and her clients.
While Cindi was healing, she came over to our house and delivered additional workshops for Justin and I: Breastfeeding Basics and Baby Care Basics. These workshops were incredibly helpful for us. Cindi's hands-on approach and using extended metaphors for situations with a baby were so helpful. I am a kinesthetic learner and my husband is an auditory learner, so this worked out perfectly. Cindi also made it a point to invite me to Descanso Gardens for some rest and relaxation weeks before delivery. This helped lift my spirits up because I felt like a huge whale.
We also attended workshops that Cindi offered at her house regarding Baby Delivery 101. All of the workshops were incredibly helpful. It was helpful taking this workshop with other expectant parents. Cindi made the class so easy to follow. She gave us a guided workbook, had us draw art that was a metaphor for the for the maze of delivery of a baby, and had the fathers play an active role in the process. I did not want to receive this education at a cold and sterile hospital with someone I will never see again. The relationship Justin and I built with Cindi was so pivotal in developing trust with delivering our baby. She guided us with every step of the way. The flood of information was quite overwhelming, but I assumed this was typical of every parent new to baby land. All of the workshops she offered and we attended were extremely helpful, informative, professional, kinesthetic, hands-on, and applicable to everyday life.
When it came time for the delivery of our baby, I experienced prodromal labor. Again, Cindi's consistent communication with Justin and I was very reassuring. When it got more serious, Cindi was at our house laboring with us for an entire day. She made my labor experience fun and uplifting even though it was difficult for me to be in that state of mind. We needed Cindi's positive energy because both Justin and I are both worriers and her carefree and experienced attitude assured us that we were in safe hands. She accompanied us to St. John's Hospital in Santa Monica where we continued to deliver up in the the late hours of the morning. She made sure to decorate my room with oils, covered the television with a mandala fabric, and a helpful figurine to guide me through our journey. Cindi stayed an additional day and night in the hospital helping us get through every contraction, helping us get distracted, and making sure the experience was memorable for my husband and I. One particular moment I recall is when she told me to take a shower and for my husband to accompany me and she played her singing bowl as we worked through the contractions together. This was such a beautiful moment for my husband and I.
Although all three of us had worked so hard to get me ten centimeters dialated and my body was stagnant at six centimeters, my doctor suggested an epidural because I had been laboring for a whopping five days and was completely exhausted. I felt defeated and did not want this to happen. Cindi did not pass judgement and assured me that it was the right thing to do considering how depleted I was from laboring and lack of sleep for five days. Cindi was there helping the doctor and nurse through the delivery of our baby. During this time, Cindi felt like an additional doctor or like she could have delivered the baby herself. Since my husband forgot to bring a camera and wanted to be present with me during that time, Cindi made sure to take pictures of that incredible moment, which I am so grateful for. Before she left, she retrieved my placenta, made sure the baby had a great latch, and left me and the baby with a miniature Ganesh figurine to watch over baby Juniper. Once we arrived home, Cindi visited us and brought over the encapsulated placenta pills, artwork of my placenta, and a dream catcher of Juniper's umbilical cord.
I have so many great things to share about Cindi as a person and a doula. She has amazing energy, is very professional, and is a great friend. Whenever my friends get pregnant, I strongly suggest Cindi to them or just the idea of having a doula as an excellent choice. She has so much knowledge that extends to a scientific level, which my husband appreciated. We learned so much from our workshops, trainings, and experiencing such a beautiful moment in our lives with Cindi.
Sincerely,
Nicole Hasenbein and Justin Hamilton
"Cindi is truly one of a kind.  The first time I met with her she was like a breath of fresh air.  I knew right away her calm, warm energy and easy going nature was exactly what I needed for this amazing journey." (read more)