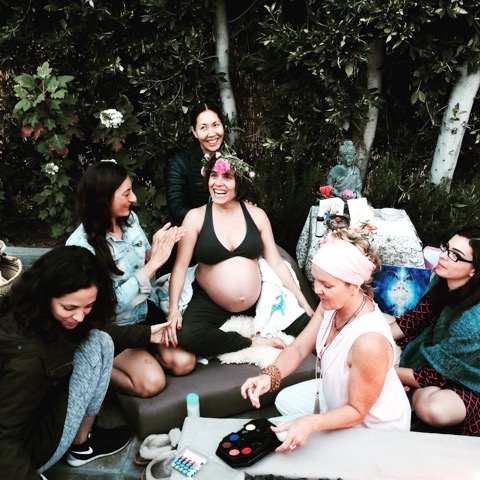 A Mother Blessing, derived from the Navajo "Blessing Way", is a way for a pregnant woman and her close friends to mark and celebrate her transition from maiden into motherhood. Unlike a Baby Shower, which is more baby and gift focused, the Mother Blessing is a sacred gathering centered upon the pregnant woman, giving her focused nourishing attention and support.
I love to specially craft a ceremony for a woman that speaks her individual concerns as she makes this huge transition. Sitting in a sacred circle we create a sacred space that is non judgmental and loving inviting the woman to voice her thoughts and fears. We focus on her strength, intuition and beauty as a birthing woman deeply supported by loved ones and divine wisdom.
Special food is brought much like a birthday party, flowers and decor sumptuous, everyone dressed in their Goddess finest.
During a Mother Blessing we make a Birth Mala out of beads brought by the participants that the mama can bring to her birth and draw strength upon in her time of need.
We will adorn the mother with a fresh flower crown, massage her, and make her feel truly loved .
Her belly is decorated with either a group painting or  special henna temporary tattoo.
Mother Blessings are a special way to celebrate every pregnant woman and send her off in a bubble of confidence and love of her tribe!
Mother Blessings can be facilitated at your home or at my Yoga Sanctuary in Altadena.
Total cost: $300.00
"Cindi is truly one of a kind.  The first time I met with her she was like a breath of fresh air.  I knew right away her calm, warm energy and easy going nature was exactly what I needed for this amazing journey." (read more)